Snorkelling
Snorkelling is a method of generating improvement ideas from frontline staff by setting them a design challenge.
---
Change often comes from above – even though frontline staff within an organisation are often best placed to see what might improve patients' experience of health care. The more inclusive the process for improvement, the easier it is to engage staff. Staff working directly with patients usually know better than most what would make a difference. Snorkelling enables staff to come up with their own ideas and motivates them to make changes. It is creative, fun and simple – and staff find it highly enjoyable.
The approach stems originally from a concept called the DeepDive™designed by industrial design company IDEO and adapted by the Institute for Healthcare Improvement (IHI) for its Transforming the Care at Bedside programme. The IHI quickly realised that the original model, which was a three-day process, would not be feasible for health care workers. So it developed a less in-depth approach – hence the term 'snorkelling'.
Snorkelling involves the following steps. Timings are provided in brackets and the session should not last more than about 1 hour 15 minutes.
Introduce the process of snorkelling (5 minutes).
Have a conversation with the whole group about the care experience context, including a discussion about the background of the problem, any evidence from the literature, and being clear about the purpose and aim of the exercise. At their tables, small groups identify what is good within the care experience, what is not so good, and what can be improved (15–20 minutes).
The small groups share stories of how the identified issue has impacted on their own experience of working in health care. In the last five minutes of this stage, ask two volunteers to share their stories across the whole group. These are usually profound and change the tone of the discussions (15–20 minutes).
Ask participants to brainstorm in their small groups. Each individual must come up with 10 ideas for tackling the issue identified. They then report back to the group (15–20 minutes).
The next step is to prioritise. Ask the whole group to identify three things that they could do to make a positive change, and discuss what actions they will take (10 minutes). If you have more time available, work in the group to reduce the total number of ideas (say, 500 for a group of 50 people) to one-tenth (say, 50 ideas) and then to refine them down further. This is done by using a matrix to identify low-cost versus high-cost ideas, and those that are easy to implement versus difficult to implement. The aim is to find ideas that are low cost and easy to implement.
The final step is action – using Plan, Do, Study, Act (PDSA) cycles to implement small-scale change.
Snorkelling template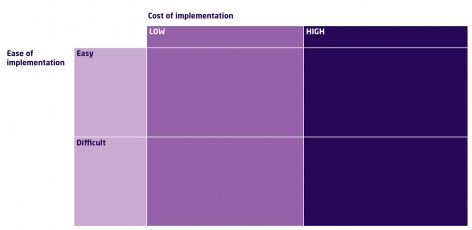 Key points
Invite a wide range of people from multidisciplinary teams, including consultants, other clinical staff, managers, health care assistants, administrators, porters and catering staff. Often, practical ideas emerge from junior staff, who may see the patients most.
The number of people you invite will depend on the scale of the topic you are focusing on.
The most important element of this process is the storytelling. As soon as people hear each other's stories, they connect with the issue emotionally and this motivates them.
Snorkelling has been run with as many as 300 people at one time, or just a handful. The room should be set up with staff seated around tables in groups of no more than 10 people.
If you have the available resources, at the brainstorming session ask individuals to write down their own ideas on Post-its which can be stuck to a piece of flipchart paper in the centre of each table. These can then be moved on to the matrix during the refining process. Otherwise, nominate someone at each table to write the group's ideas down on a piece of flipchart paper.
At the brainstorming session, encourage people to think 'outside the box', with ideas from outside health care, and to be as wild as they like. This makes the activity fun and gives people the confidence to come up with really creative, innovative ideas.
The event could be facilitated by someone in a service improvement role or someone in a PFCC lead role with experience in facilitation, or a frontline ward manager with their own team.
When facilitating, try to move around the room and listen to what the different tables are discussing.
Before the brainstorming exercise, acknowledge to the whole group that some people may find this activity hard. Move around the room to support anyone who feels stuck and unable to come up with ideas and to help participants focus on the topic in question.
Prepare some wild or unusual ideas of your own that you can suggest to the group, to demonstrate that all ideas are welcomed and help them enter into the sense of fun.