Point of Care Foundation launches 'Humanising Healthcare' podcast series
06 May 2021
We have launched a new podcast series to amplify discussions about the human aspects of giving and receiving care.
---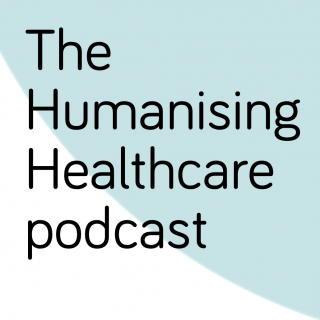 The Foundation has launched a new podcast series, 'Humanising Healthcare', to amplify discussions about the human aspects of giving and receiving care.
Presented by our Chief Executive, Bev Fitzsimons, the six-episode series features conversations recorded during the early months of 2021.
Through our work we hear many stories from staff and patients about the good and the bad aspects of healthcare.
Schwartz Rounds and Team Time provide forums for people working in health and care to share their stories with each other in a safe environment. Over time, and particularly during the last 12 months, we have come to realise the value of sharing stories more widely and raising greater awareness of the issues they reveal. We have started to do this with our 'Stories from the point of care' content, where we reproduce stories that people have shared with us through our work – with their agreement, and mostly anonymously.
The podcast series will help us to share stories more widely and bring them to new audiences. Each episode has a different theme and features interviews with guests who have particular experiences or perspectives to share.
The initial series is six episodes long and opens with an interview with our founder and former chief executive, Jocelyn Cornwell, entitled 'Because people, not bodies, suffer'.
Future episodes look at birth, death, and much in between. They will be released roughly every two weeks.
Episodes will be published on the Point of Care Foundation website and released onto the major podcast platforms, through which listeners can subscribe to receive new episodes as they are released.