Schwartz Rounds in Higher Education Institutions Conference 2022
Laura Golding 19 April 2022
Laura Golding (Schwartz Rounds in Higher Education Project Lead), talks about the Schwartz Rounds in Higher Education Institutions conference we recently hosted with the University of Liverpool.
Topics
---
On 22–23 March 2022, 69 delegates representing 32 Higher Education Institutes (HEIs) across the UK and Ireland attended the first ever HEI Schwartz Round conference. Jointly organised by the Point of Care Foundation and the University of Liverpool, the conference took place face-to-face in Liverpool. We welcomed staff and students from universities that are currently running Schwartz Rounds for health and social care students, as well as those from universities interested in setting them up for their students.
Schwartz Rounds have primarily been run within health and care organisations but their value in supporting wellbeing and building compassionate cultures is recognised in other types of organisations. Higher education is a rapidly growing sector. In January 2022, the Point of Care Foundation launched a new project dedicated to supporting HEIs to run Schwartz Rounds for health and social care students. I'm delighted to have been appointed to lead this project. A total of 18 HEIs are currently running Schwartz Rounds in the UK and are connected through the Point of Care Foundation's growing HEI Schwartz Rounds network.
The conference
The Liverpool conference was, in part, an opportunity to celebrate the work of the nine HEIs that form the University of Liverpool led 'Schwartz North project'. During the conference, the Schwartz North HEIs shared their Schwartz Rounds work through posters and 'show and tell' presentations.
Delegates from HEIs that are already running student Rounds generously shared their experiences with those attending the conference wanting to learn about Rounds and how to run them in an HEI. Delegates also took part in a powerful live Round on 'Living with uncertainty'. The lively chatter in the breaks, and the animated discussions in the conference workshops, highlighted the joys of being together in person and with a shared purpose.
Later, we heard from Professor Faye Gishen (Acting Director, University College London,  Head of the MBBS Programme), who delivered an excellent conference keynote speech which gave much food for thought. This included reflection on the key role Rounds play in supporting health and social care students with challenges related to transitions as they progress through key stages of their training. Particularly, Faye talked about the contribution that Schwartz Rounds can make in supporting healthcare students, and newly qualified healthcare professionals, with compassion fatigue, imposter syndrome, perfectionism & burnout.
On the second day of the conference, Farhana Nargis and David Jones facilitated a workshop on how Schwartz Rounds can help to create more equitable health and care. This included examples of HEI Student Schwartz Rounds that have focussed on issues of equity, including hearing powerful stories of discrimination from two students. This led to all delegates being invited to commit to one action to address the challenges of equality, diversity and inclusion in HEIs. An example of these commitments was to:
Start to plant the foundation of Rounds and create a robust structure for sustainable, valuable storytelling involving diverse groups.
The conference also featured two exciting launches. Professor Jill Maben and colleagues from the University of Surrey launched 'Schwartz South' – a Health Education England funded project which aims to work with seven HEIs. We also launched an exciting new animation. Co-produced by staff and students from the Schwartz North HEIs, the two minute video tells students what to expect in Schwartz Rounds and why they are beneficial to attend whilst in training.
It was wonderful to be together, in person, with colleagues with the collective aim of supporting health and social care students' wellbeing and capacity to deliver compassionate care through the provision of Schwartz Rounds. This sits within the wider Schwartz Rounds context in health and social care, a growing social movement, central to the mission to humanise healthcare. I am looking forward to working with the rest of the Point of Care Foundation team together with HEIs and NHS colleagues across the UK to further develop  the availability of Schwartz Rounds to health and social care students during their training. With many thanks to everyone who attended the conference and to those who contributed in so many different ways. Finally, special thanks to Vikki Grimbly, Schwartz North Project Officer, for organising the conference.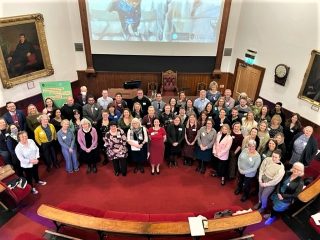 Guests and speakers together in Liverpool at the first ever Schwartz Rounds in Higher Education conference.