My point of care: Peter Homa
Jocelyn Cornwell and Peter Homa Point of Care Foundation and NHS Leadership Academy 05 February 2018
Peter Homa is the newly appointed Chairman of the NHS Leadership Academy. His long career in the NHS began in the role of hospital porter in 1979 and ended with his retirement as Chief Executive of Nottingham University NHS Trust last year. In 2000 he was awarded a CBE for services to the NHS. He has also recently joined the Point of Care Foundation board of trustees.
Peter will be chairing a discussion on making the NHS more human for staff at our conference in March, 'Making Healthcare More Human'. Ahead of the event, he spoke to Jocelyn Cornwell about what he has learned from his time working in the health service.
Topics
---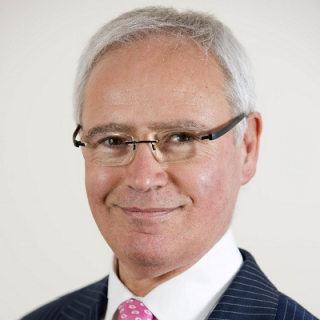 Jocelyn Cornwell (Chief Executive, Point of Care Foundation): Peter, can you tell me why you first got interested in working in the NHS?
Peter Homa: At university I was taught by Professor Julian Legrand and became fascinated by the application of health economics to the art and science of medicine. When I left university, I worked as a general porter at St. James' in Balham and, because I was good with people, I was promoted to operating theatre porter. From there I observed interactions between staff and patients and realised that I wanted to play a part in them and to get involved.
I went travelling for a short period and then had a period of self-employment before applying to the general management trainee scheme. The scheme gave me a great introduction to the service and lots of different experiences.
JC: Do you remember at what point you decided you that you wanted to be a Chief Executive?
PH: I didn't decide, it just happened to me. My drive was always to help others care for patients. I was ambitious, but I was thrust into the position of being General Manager of Leicester Royal Infirmary at the age of only 32 by a series of completely unpredictable events. Those first two years as a General Manager were the most stressful of my working career. It was as if I had to learn in-flight how to fly the plane.
JC: What do you think you learned then?
PH: Two things, to employ people more able than myself and the power of the high performing team. When I think back to those first two years as a General Manager, I feel that my experience was much like that of people who become Medical Consultants in their 30's. These positions are ones in which individuals have extraordinary responsibility, they are stressful, and people often feel isolated. Since then I have always felt sympathetic to others who take on big responsibilities when they are young. I see the NHS Leadership Academy as becoming even more skilful at providing timely support from experienced people to those who find themselves in such positions. Personally, I am supporting four Chief Executives in new jobs.
JC: What kept you in the NHS as a Chief Executive?
PH: The extraordinary privilege of helping others caring for patients and their loved ones at the most joyful and most stressful times in their lives, and working with extraordinarily dedicated and devoted staff at all levels and in all roles. There's an intrinsic satisfaction to the job and I have been privileged to work in different settings during my career. I set up the Commission for Health Improvement (CHI), I've worked with government, and I've visited nearly every NHS provider organisation in England and Wales when I was at CHI.
JC: What would you say you learned throughout that career?
PH: I think of this as my 'Lonely Planet Guide' to leadership:
Put patients first
The value of values, they guide decision making particularly during challenging situations
Appoint others who are better than you and enable them to do great work
Care for staff as deeply as you care for patients
JC: Can I ask you what you think about care. What is good care? The reason I ask is that I think this question is fundamental to the work we do at the Point of Care Foundation.
PH: Care that is designed and provided in a way that respects patients and their loved ones; care that is based on what is best for them, not what is best for the institution. Patients and staff have many insights into the process of care and how to design services around patients. Their time could be spent better. Good results are achieved usually despite, not because of the system.
JC: And how well do you feel the system is coping at the moment?
PH: There is a reservoir of ability to absorb challenges in the NHS, but once that is breached it begins to show up in attitudes and in patients' experience of care. At its worst when the reservoir is breached, it results in a Mid-Staffs type situation, where the needs of the institution overwhelm the staff and their ability to cope. This is where effective leadership is critical. Its absence can result in very poor outcomes for patients. But where there is good leadership it helps teams to achieve astonishing results as we see at the moment every day in accident and emergency services and in other parts of the system including the ambulance service and primary care. But, you cannot operate a system that relies on this reservoir indefinitely. That will lead to sickness, burnout, poor staff and poor patient experience.
JC: What do you think can be done at Trust level to cope with the current circumstances?
PH: Boards need to affirm the focus on patients in their values and behaviours and they need to role model and support practical activities on the ground such as patient safety conversations, Schwartz Rounds and the application of methods such as patient shadowing, which are almost free and provide powerful insights to get staff into patients' shoes. Boards shouldn't rely on written reports only, but make sure there's an active patient voice throughout the institution. At Nottingham for example, patients are on appointment panels, they're designing new services. It's important to be inclusive of all patients and to include people whose voices are often not well heard – patients from ethnic minorities, people with disabilities, a range of sexual orientations and so on.
JC: How much resource do you think is needed to include patients in the way that you suggest?
PH: The most important thing is to set the objectives and to resolve continuously to involve patients. Resources are needed but they are not the first thing.
JC: I am interested in the emphasis that you place on Boards. I wonder how you think that relates to the fact that, within an organisation that's struggling, you can find very high performing teams?
PH: I agree that organisations have bright and dark spots, but the reason that the board matters is that it has to set the climate so that the light spreads from the light spots to those that are dark.
JC: How do you feel about the future of the NHS?
PH: I feel optimistic about it when I think about the dedication and devotion of staff but profound change is needed both in the level of resource and the focus and attention to the NHS across government.
JC: Finally, Peter can I ask why you wanted to become a Point of Care Foundation Trustee?
PH: Because I believe that the Point of Care Foundation offers solutions to many of the challenges facing those who receive and provide care.
JC: Thank you very much Peter, I am looking forward to seeing you at our conference at the end of March, where you will be chairing the afternoon on how to Make Healthcare More Human for staff.